School may just have started but I'm already gathering ideas for summer vacations. At the recent Momtrends Night Out, I had the chance to meet with the Visit Williamsburg team and today I'm sharing my picks for the Top 10 Family Friendly Activities in Williamsburg, Virginia.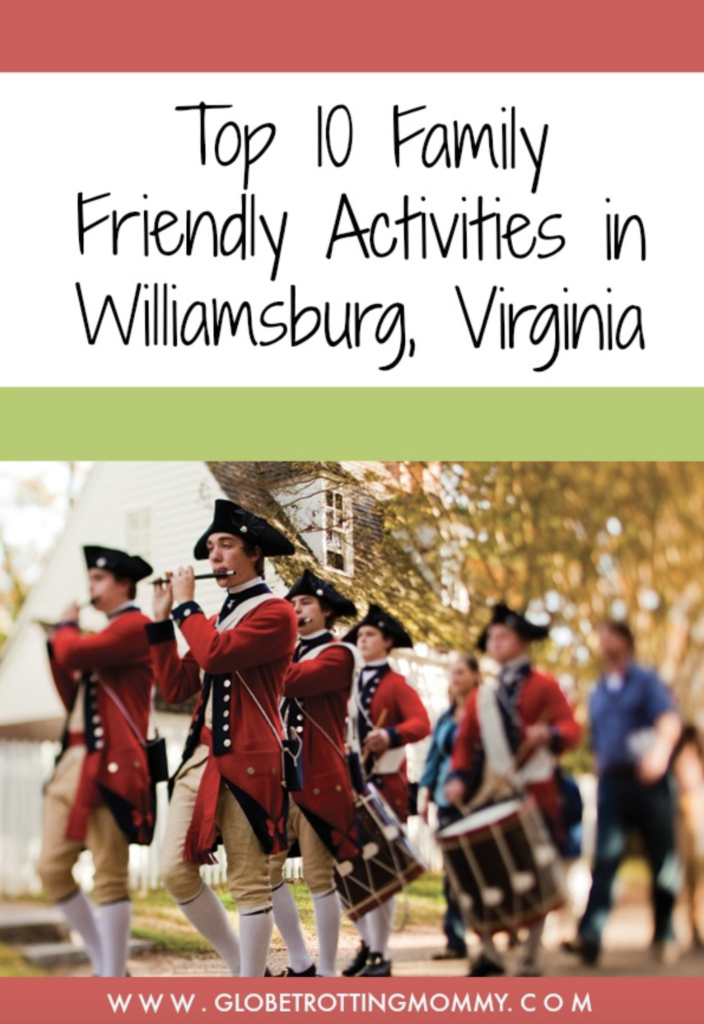 With my third-grade history buff daughter who loved our Charleston getaway and my College of William & Mary graduate husband who loves anything Virginia, it is just a matter of time before we get down there to check these out firsthand!
I was truly amazed at the variety of adventures that are available but I purposefully picked a mix of excitement, culinary treats, cultural activities and some R&R to keep all three of us happily entertained.
Top 10 Family Friendly Activities in Williamsburg, Virginia
No surprise that well-known Colonial Williamsburg tops my list of family-friendly attractions. Choose from more than 20 guided tours (included in the admission price) or explore the historic sights at your own pace. Go back in time with reenactments, savor tavern fare (don't miss the "gambols" at Josiah Chowning's Tavern), check out the shops of Merchants Square, try your hands at candle making, golf, go undercover as a spy, savor sweet treats at the Raleigh Tavern Bakery and so much more. Insider tip: Don't miss the life-size maze in the gardens behind the Governor's Palace.
Our family loves amusement parks so a day at Busch Gardens is a must. From daring roller coasters and thrill rides to animal shows, seasonal events and Broadway-style shows, there really is something for everyone in the family. Year after year, this is voted one of the most beautiful theme parks and the grounds are divided by countries similar to Epcot.
3) Williamsburg Tasting Trail
Did you know that Williamsburg Winery is one of the top wineries in the country?  Plan a low-key day exploring the area's tasting trail and sample the areas famed wines, micro-brewed beer and distilled spirits and enjoy family-friendly special events. Don't miss the newest addition, Billsburg Brewery which features artisan craft beers and Jamestown River views. I sampled a few varieties including Strawberry and honey-based drinks at the Momtrend's Event and they were delicious.
Learn about Jamestown's 92-year run as the capital of Virginia through archeology tours and museums and step back in time as you follow in the footsteps of Capt. John Smith and Pocahontas. Enjoy lunch overlooking the James River and be sure to stop at the Glasshouse of 1608 for glassmaking demonstrations.
We're fans of Splish Splash and Kalahari so I know Water Country USA, Virginia's largest water park, will be one of the highlights of our trip. With more than 40 water rides and attractions (including this mom's favorite, the lazy river) and KIDsiderate play areas, this is a great spot to spend a day.
Because my husband (and both his siblings) went to school here, we will definitely spend some time checking out the college's famed Colonial campus located at the edge of Colonial Williamsburg's historic district. You won't want to miss the President's House, Sir Christopher Wren Building and Muscarelle Museum of Art. Grab a sandwich (my husband recommends the combo with house dressing) from the nearby Cheese Shop of Williamsburg and enjoy a low key picnic as you watch the students run from class to class. Fun fact: The Wren Building anchors one end of the main street in Colonial Williamsburg and it is exactly a mile to the Colonial Capital at the other end of the historic district.
7) Historic Yorktown
The NEW American Revolution Museum at Yorktown is a must see which allows visitors to experience the impact of the Revolution through an introductory film and expansive gallery exhibits plus kids can fire a real cannon! Be sure to visit the three ships at Jamestown Settlement, Yorktown Battlefield and savor the area's riverfront charm. Tip: If you go, skip the highways and drive the scenic Colonial Parkway.
8) Family Spa Time
All that amusement park time needs to be balanced out with some relaxation so I recommend checking out the area's spas.  From a pampering couples massage at Colonial Williamsburg Spa or The Spa at Kingsmill to the Scoops Kid Spa at Great Wolf Lodge, the options are varied.
9) Outdoor Adventures
From biking in Colonial Williamsburg to hiking and kayaking at York River State Park, golf galore and treetop zip adventures at Go Ape Freedom Park, outdoor enthusiasts will have plenty of options to choose.
10) Family Bonding Time
Make sure to add in some time to kick back and enjoy some family time. My personal picks for this include a sunset cruise with Jamestown Discovery Boat Tours, an in-theater dining experience at Movie Tavern, exploring the waterfront at Riverwalk and checking out the area's woodlands and wetlands.
Have you visited Greater Williamsburg? Tell me your favorite Family Friendly Activities in Williamsburg, Virginia below in the comments.

Thanks to Meredith Corp. and Visit Williamsburg for sponsoring this post. I was compensated for attending this event and writing this post but all opinions are my own.If you don't want to miss a post, subscribe to Globetrotting Mommy for daily updates!