Do you want to know how to win Hamilton Lottery Tickets? Of course, you do!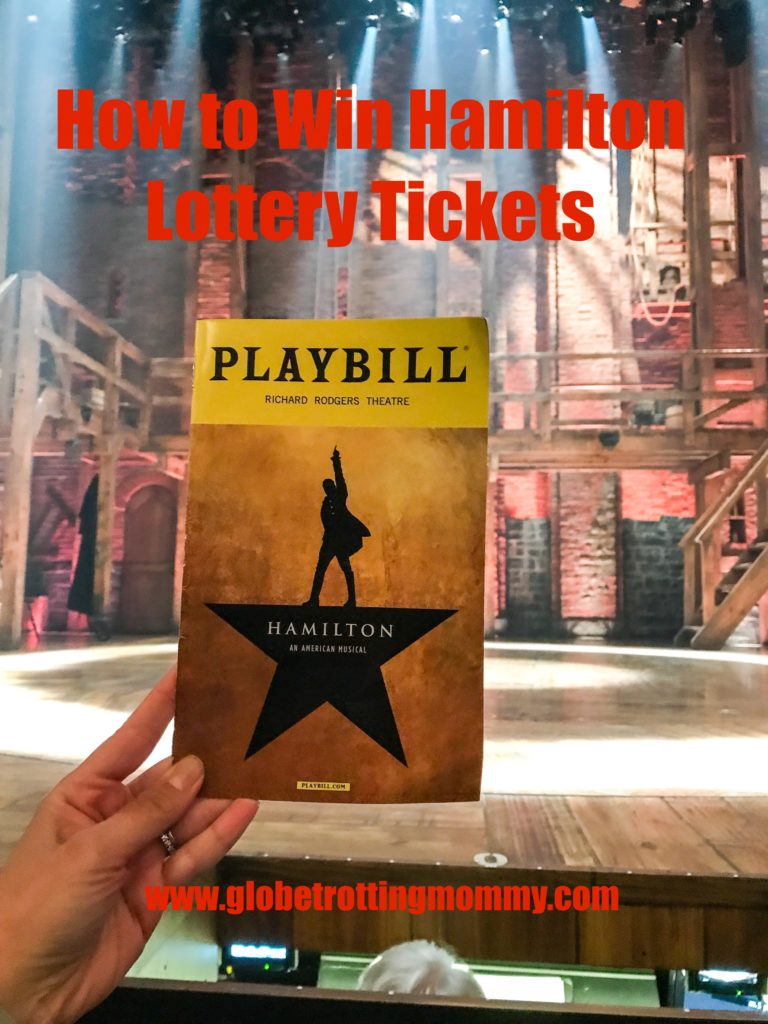 In case you haven't heard, Hamilton, the hottest Broadway show in New York sets aside 46 seats in the first two rows for lottery winners to purchase for just $10 (aka a Hamilton). Here's everything you need to know to win the NYC (Chicago or LA) Hamilton Ticket Lottery and score some autographs too! And yes, I actually won two awesome center orchestra tickets last month for just $20.
How to Win Hamilton Lottery Tickets
1 – Download the free Hamilton App. In addition to the lottery feature, the app also features a Hamilton themed shop, news, stickers and HamCam filters. This app is your number one tool for how to win the Hamilton lottery tickets.
2 – In the lottery section of the app, be sure to click yes for the lottery reminder notifications.
3 – Create a daily "Hamiton alarm" on your phone to remind you to enter each and every lottery.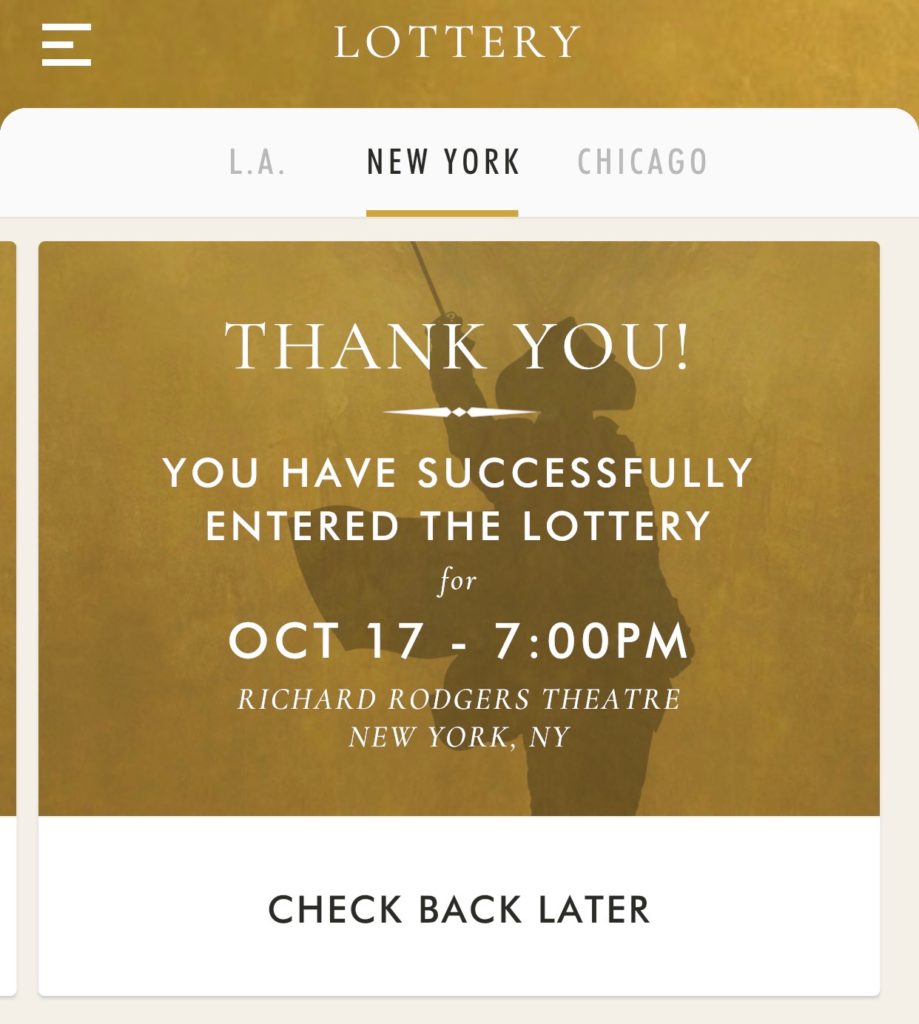 4 – Click the lottery tab and enter every available lottery in NYC (or Chicago or LA).  Be sure to enter both matinee and evening lotteries when available (scroll left to see both lottery options on matinee days which are Wednesday and Saturday).
5 – Make sure to check off two tickets because all your friends will be begging to join you.
6 – Keep an eye on your phone every day around 10:30 am – 11 am. You will most likely get these annoying sorry you did not win notifications…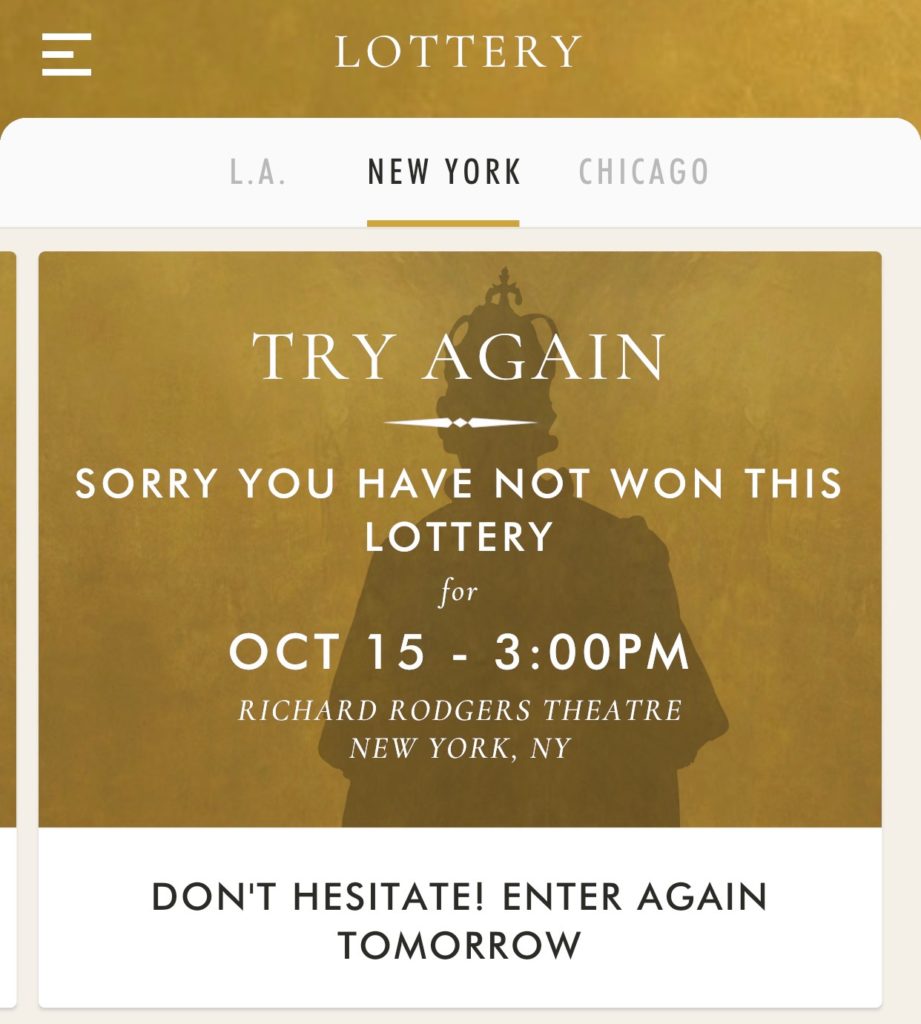 7 – Wait until the day you get a winning message!
8 – Scream out loud and tell everyone you just won Hamilton tickets!
9 – Buy your tickets on the app ASAP.  There is just one hour to claim those coveted $10 seats so do not miss your shot! FYI, regular tickets start at $250 if you can even get them.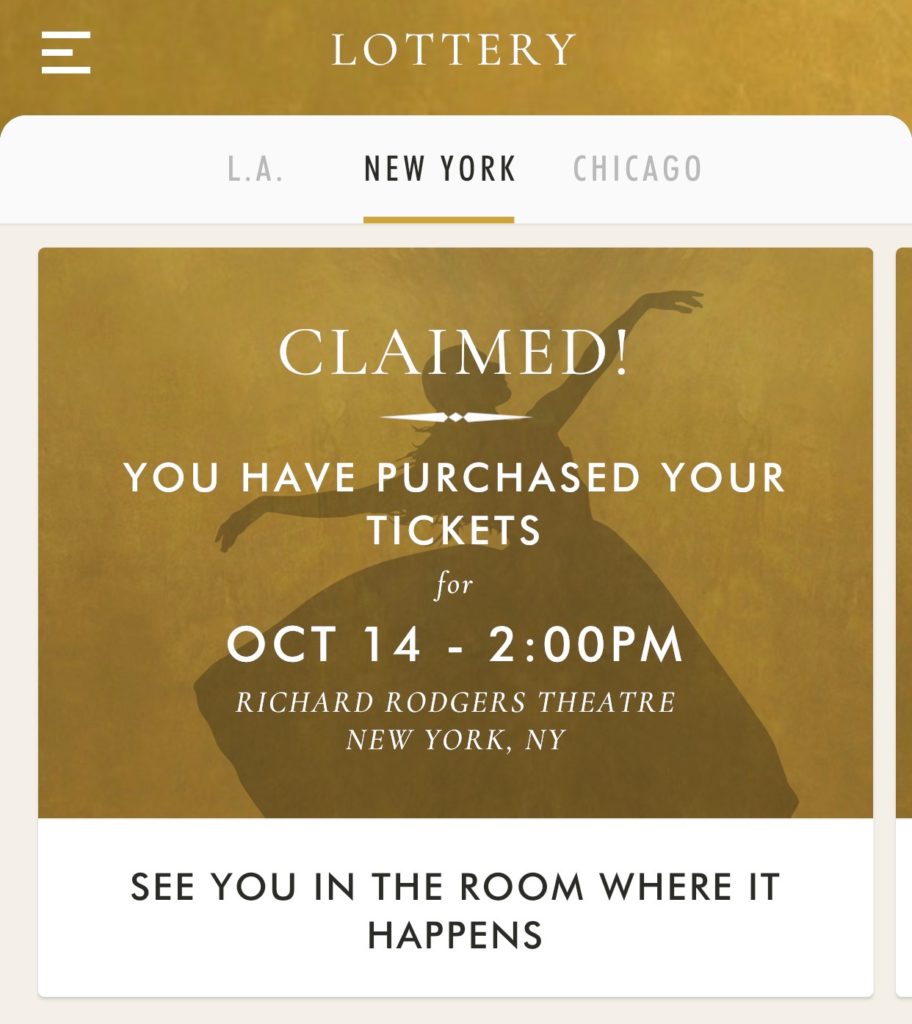 10 – Decide who you'll be bringing and make sure they know where and when to meet you.
11 – Bring your email confirmation and Photo ID and go straight to the main theater doors (nope, you don't need to wait in that long, long, long line!)
12 – You and your guest will be placed in a special waiting area and let in one group at a time to claim your tickets.
13 – Enjoy the show and your awesome seats!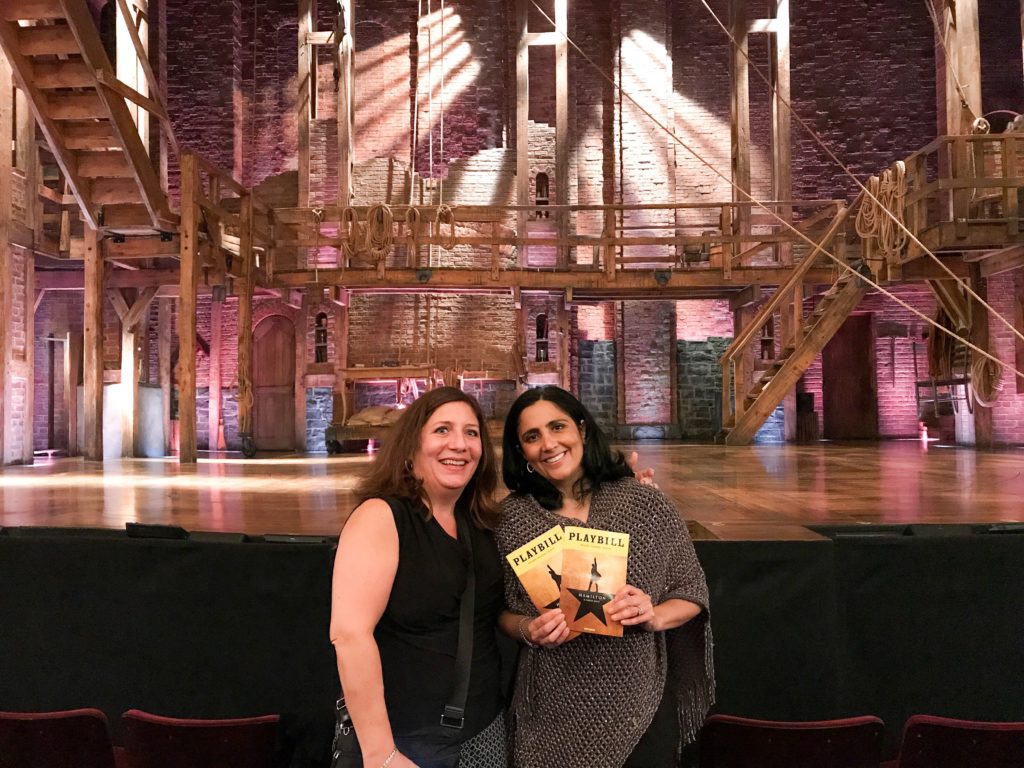 14 – After the show, immediately head towards the roped off area on 46th street and have your program or other souvenir items (FYI, the Hamilton gift shop is across the street) ready to be signed.
15 – Wait for select cast members to come out and swoon as you take photos and get autographs.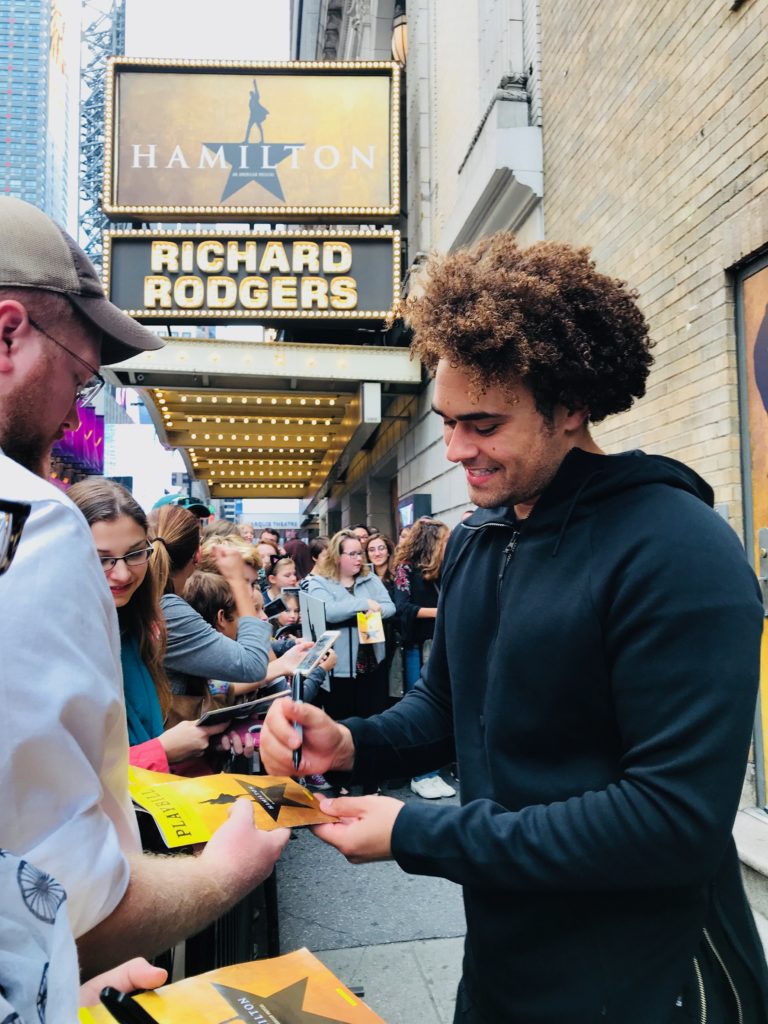 Oh hi, Andrew Chappelle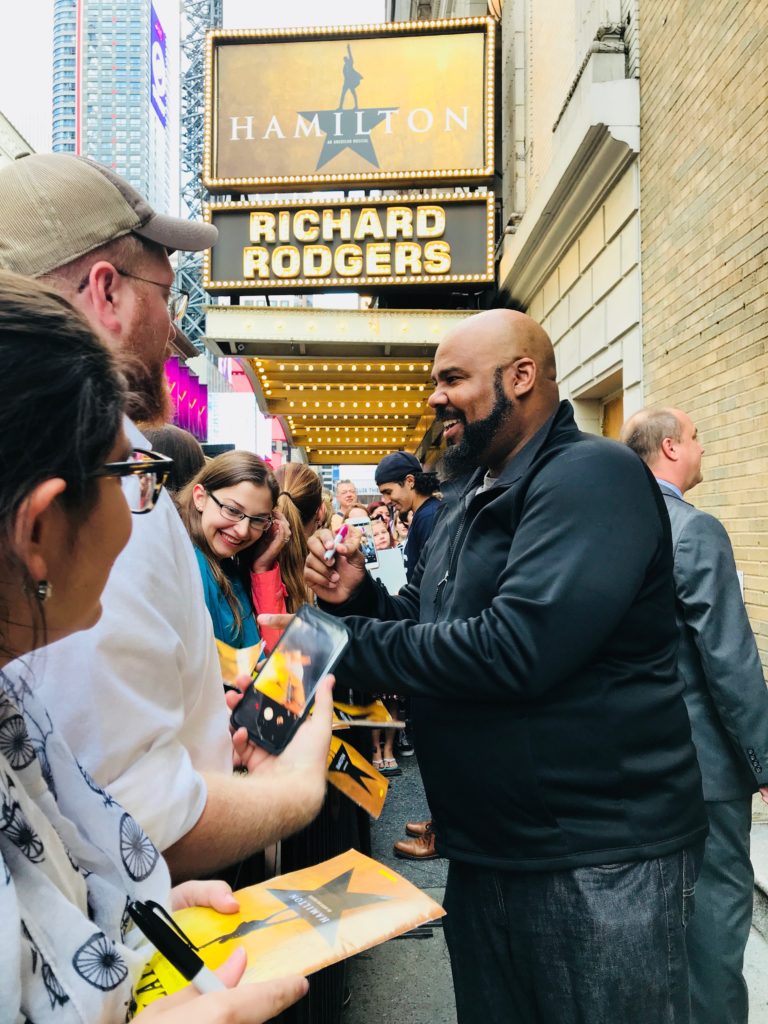 Seeing a show is one of my favorite holiday gift ideas. Have you seen Hamilton yet? Tell me below in the comments.

If you don't want to miss a post, subscribe to Globetrotting Mommy for daily updates!