Does your daughter love to swim? Does she love to dress up? Does she dream of being a mermaid?  If you answered yes to any or all of those questions, you'll love today's topic…Fin Fun Mermaid Tails.
My daughter's mermaid obsession started years ago with a well worn Ariel costume and a Caribbean themed birthday party. On our Kalahari trip last year, the obsession continued with a mermaid swim lesson so when I met the Fin Fun Mermaid team this summer, I knew my daughter would love her very own mermaid tail.
With a wide range of colors, patterns and textures (glitter, rainbow and ombre oh my), there is a Fin Fun Mermaid tail sure to please everyone. Girls (and women) can choose from four limited edition designs (Clownfish and Blue Tang which remind me of Nemo and Dory and Maui Splash and Bail Breeze featuring colorful ombre designs) and the Mermaidens® collection which is available in a rainbow of ten colors and glittery Sparkle Costume Mermaid Tails.
Select your mermaid tail, add the company's patented Fin Fun Monofin flipper and voila, your little mermaid comes to life. There are few better places to test-drive a mermaid tail then the Caribbean so we brought Fin Fun's Waverlee's Malibu Pink Mermaid Tail along on our recent trip to Nickelodeon Resort Punta Cana in the Dominican Republic.
It is little tricky getting into the tail and Monofin so little ones will definitely need some assistance. Secure feet inside the Monofin slots, pull the tail up and you've got a mermaid.  I highly recommend putting this on poolside because once the Monofin is on, there will be no walking. FYI, if you need to walk, the Monofin can easily be removed since the tail bottom features an open end.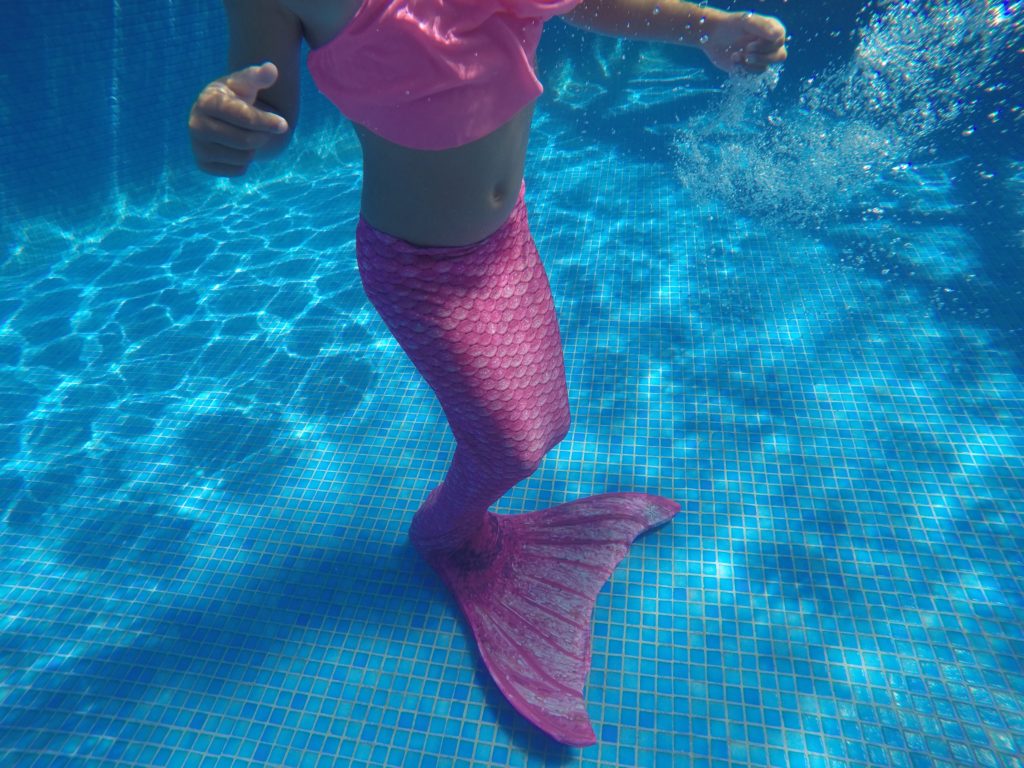 The resort had a zero entry pool which made it perfect for my daughter to slide right in. Once she was comfortable kicking her tail around in a sitting position, we ventured deeper into the lazy river and my daughter excitedly swam around. It was so cute to see all the girls asking their parents if she was a real mermaid.
Mermaid tails are only recommended for children who are strong swimmers and young mermaids should definitely be supervised at all times. I loved having the mermaid tail as a prop for the adorable photo shoot we did with Caribephoto. How great are these photos they took?
If you're looking for a unique gift for a girl (or mom) who likes to swim, a Fin Fun Mermaid tail is sure to please.

Big thanks to Fin Fun Mermaid for providing me with a mermaid tail to review and to Caribephoto for capturing these awesome photos. All opinions are my own. If you don't want to miss a post, subscribe to Globetrotting Mommy for daily updates!