One World Observatory, the observation deck at the top of One World Trade Center (aka Freedom Tower) in New York City has quickly become one of the city's top tourist attractions since it opened last year. If you're planning a trip to the Big Apple, here are my top tips for visiting One World Trade Center, NYC's tallest building.
TICKETS AND PRICING AT ONE WORLD TRADE CENTER
1 – Buy your tickets in advance but don't waste your money on the "priority" admission options since all visitors must pass thru the same waiting and security areas. The "flex" options are much more expensive but if you want to guarantee a clear day or kids being in a good mood, you may want to consider this. All tickets are timed so plan on getting there about 10-15 minutes before your scheduled admission time and you will be fine. If you're traveling with young kids, I suggest visiting first thing in the morning or right after lunch time. Tickets start at $34 for adults for adults, $32 for seniors, and $28 for children 6-12. Kids five and under are free.
GETTING THROUGH SECURITY
2 – All guests must pass through a quick security screening so this is not the day to break out your studded jeans and complicated belts. Be sure to check this list of prohibited items before you go as food and beverages, some strollers and camera equipment, large bags and other items are not allowed. All electronics, bags and metal objects will be scanned in bins while guests walk through metal detectors (no need to remove shoes). Once past security, a large LED screen shows how many visitors have been through that day and also since it's opening. From there you can watch some short videos about the construction of the tower or continue on to the "sky pod" elevators. 
RIDING TO THE TOP – THE SKY POD ELEVATORS
3 – The "Sky Pod" elevators are super fast (47 seconds!) but you won't want to miss the video that projects NYC being built (and rebuilt) all around you in an amazing time-lapse animation as you travel to the 102nd floor. You can see the complete video here. Be sure little kids are near the walls for best viewing and to warn them that their ears might pop during the ride. If you are prone to motion sickness, you might need a Dramamine. 
ONCE AT THE TOP
4 – The first stop is the the See Forever Theater, a long room where a two-minute "Welcome to New York" video greets guests. When the video ends, the "screen" disappears to reveal the spectacular view so get ready to say "wow" out loud. From there, guests head to the 101st floor which features dining options and souvenir photos. Food and drinks are not allowed (except for water) and the dining options are crazy expensive so plan to eat before or after if you can. If you do need to buy an overpriced hot pretzel so your kids will not whine for an hour, I'm not here to judge.
The 100th floor is where you'll find the gorgeous 360-degree views so get your cameras ready although glass reflections and lighting are challenging. Be sure to visit the two observatory presentations which showcase information about the city, landmarks and activities.
The Sky Portal, a glass paneled circle on the floor is a must see for kids and adults alike. Look below to see live video feeds from outside 1 WTC to simulate the view from 100 stories up in the air. Note – Those are HDTVs under glass so no need to be scared.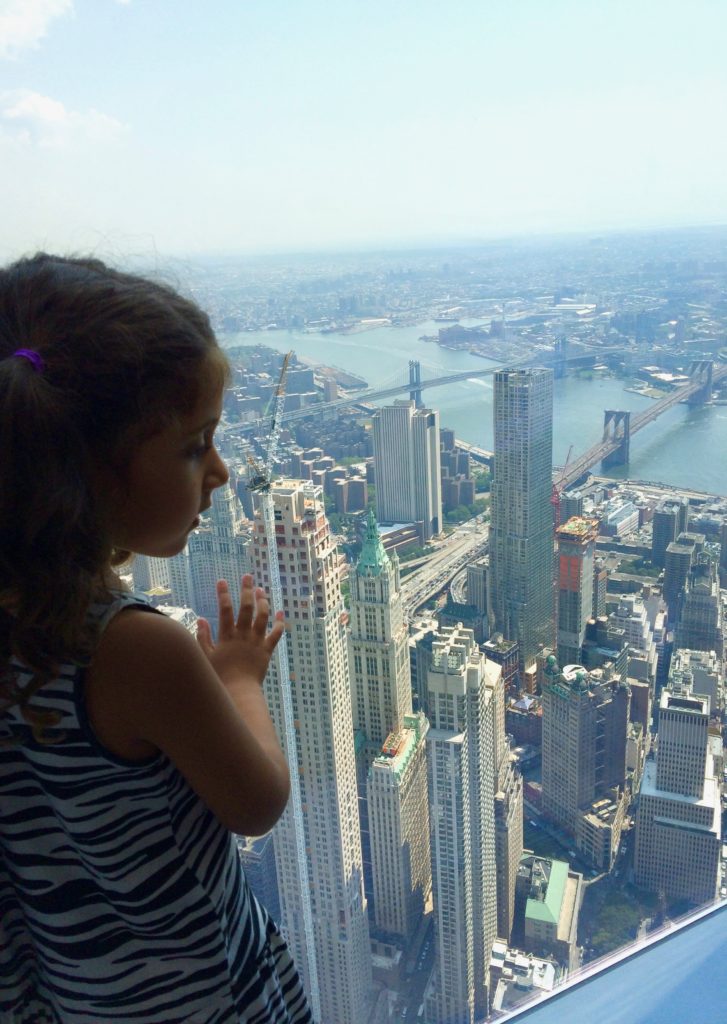 The views are just amazing in person, and once you get to the Observatory, you are free to stay as long as you want which is a nice perk. On a clear day, you'll be able to see up to 50 miles away while spotting iconic landmarks like the Statue of Liberty and Empire State Building as well as several bridges and NYC neighborhoods. Gorgeous views, right?
BACK TO THE BOTTOM
5 – The ride down has a different animated film featuring present day lower Manhattan so be sure to pay attention. Afterwards, be sure to check out the nearby 9/11 memorial which features two fountains representing the north and south towers of the fallen World Trade Center and the new Oculus shopping center.
Have you visited One World Trade Center? Tell me your favorite memory in the comments.

If you don't want to miss a post, subscribe to Globetrotting Mommy for daily updates!