It isn't every day I get to really play tourist in my own city so when Conrad New York invited my family for a downtown staycation, I jumped at the chance. If you are looking for a family friendly all-suite hotel in the heart of NYC's new downtown, Conrad New York is a fantastic choice.
Many tourists think they need to stay near Times Square but I like to recommend families stay in more residential areas to get a better feel for the "real" New York while avoiding the craziness of midtown. Located just steps away from Brookfield Place, and nearby the Freedom Tower and 9/11 memorial, Westfield World Trade Center shopping center (aka the Oculus) and historic Battery Park, Conrad New York was an ideal home base for our two-day trip.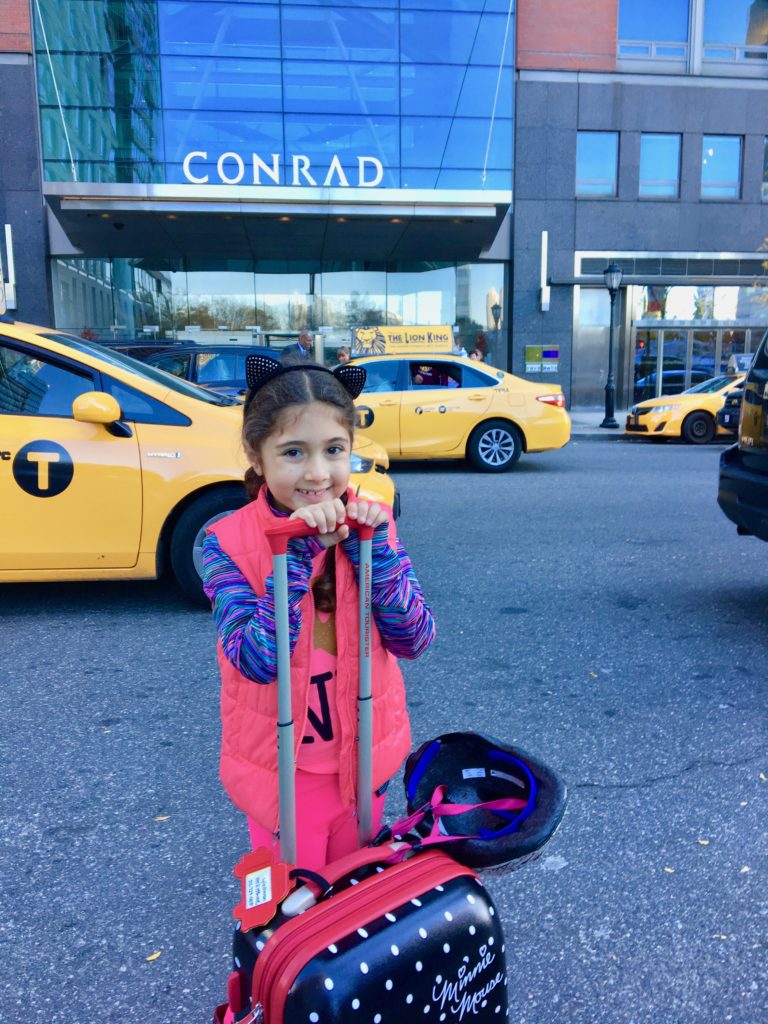 We live nearby so we arrived by taxi and quickly checked in. The 15-story lobby is just stunning and the signature 10-story custom artwork, Sol Lewitt's Loopy Doopy, really mesmerized us all as the colors changed when the lights shifted.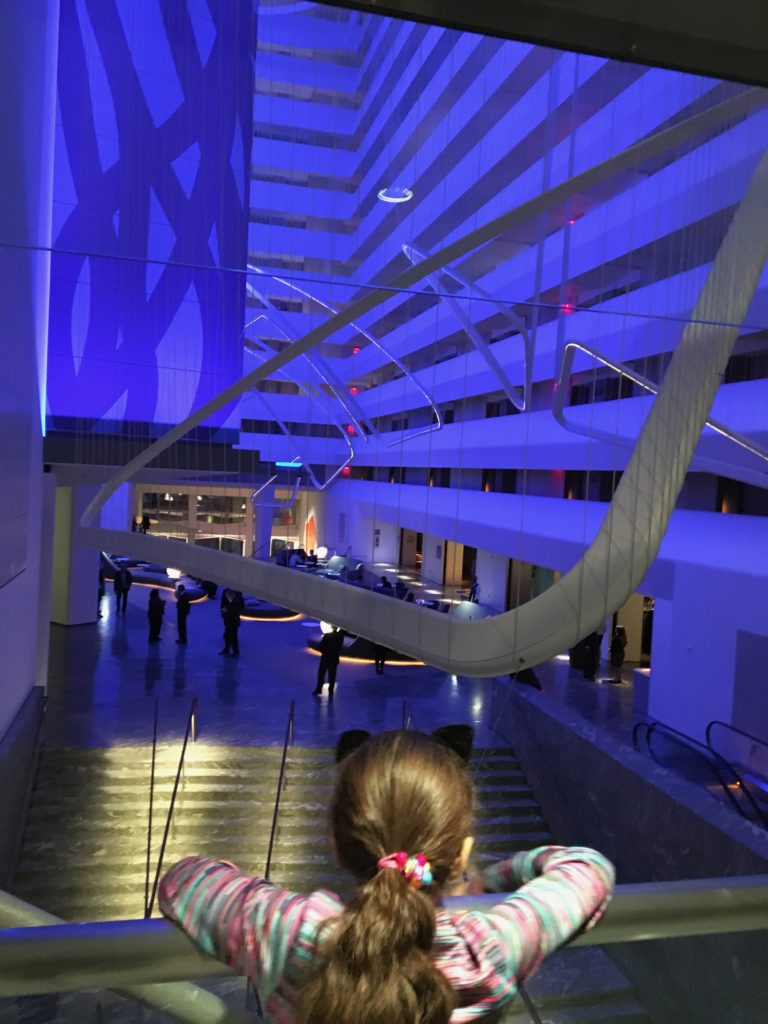 The hotel features a sleek modern design with stylish decor, a grand marble staircase and awesome Hudson River views – I particularly loved the open air spaces that allow guests to take in the art and views from every floor. Just the place to stay inspired…
We settled into our suite (one of 463) which was stylishly decorated with modern art and a soothing color palate. My daughter had her own sleeping area in the living area while my husband and I claimed the master bedroom. In addition to the comfortable beds (and plush feather pillows!), there were closets upon closets, an incredibly spacious bathroom, a separate oversized walk-in rainfall shower, a desk area and chairs for relaxing.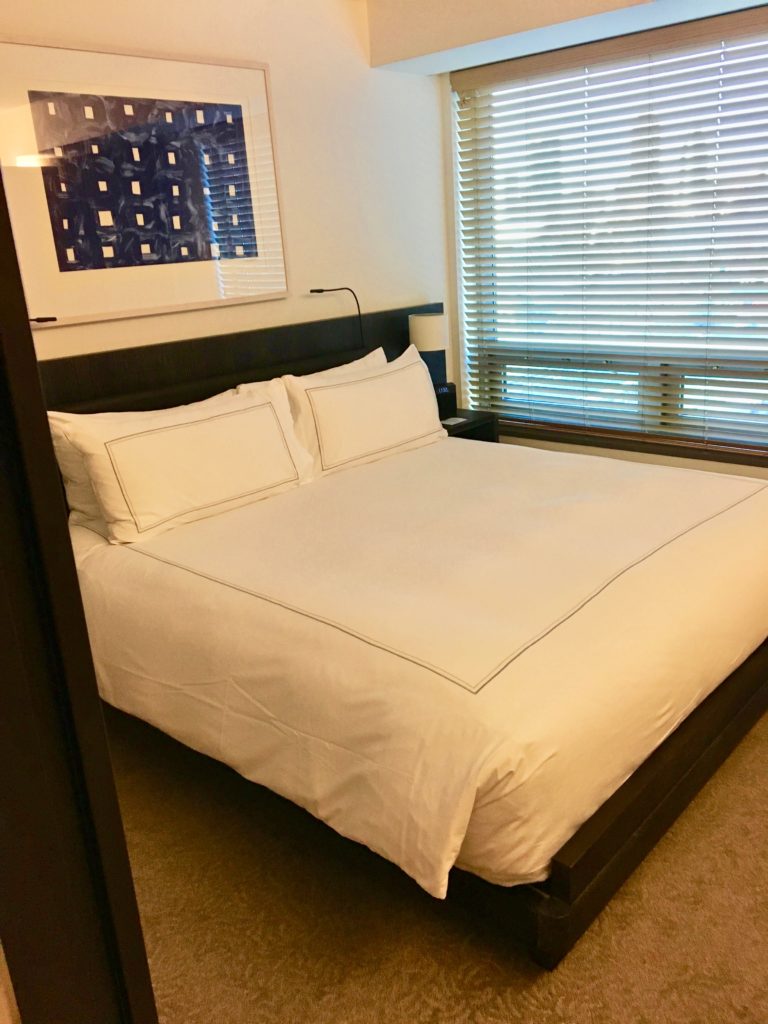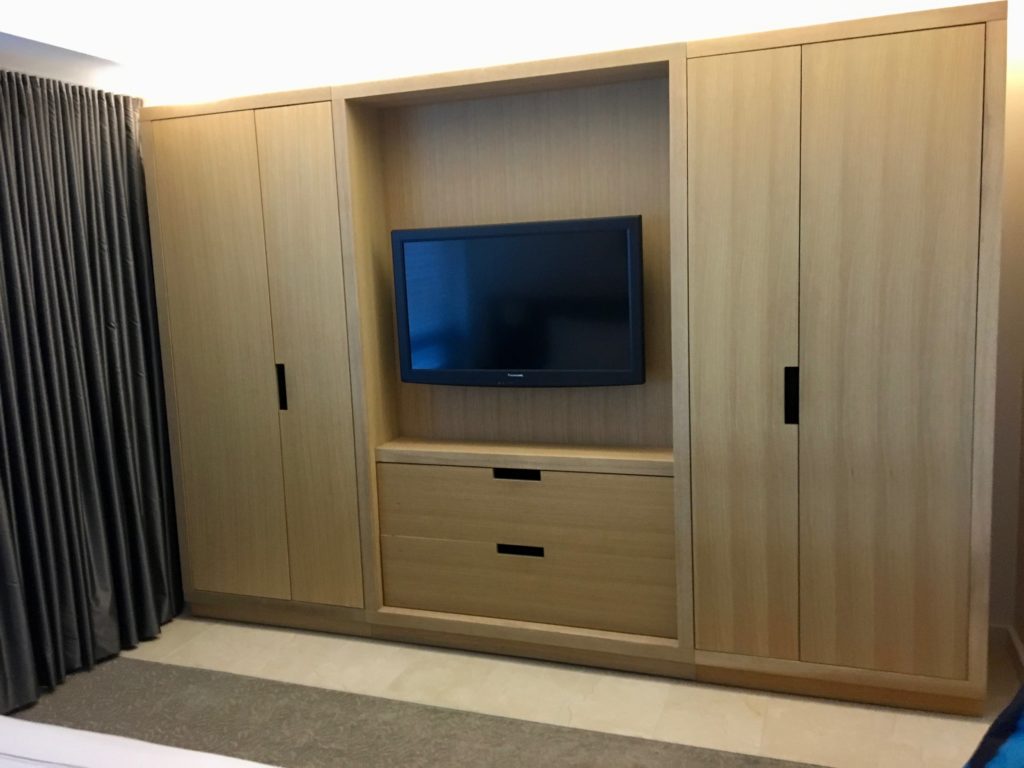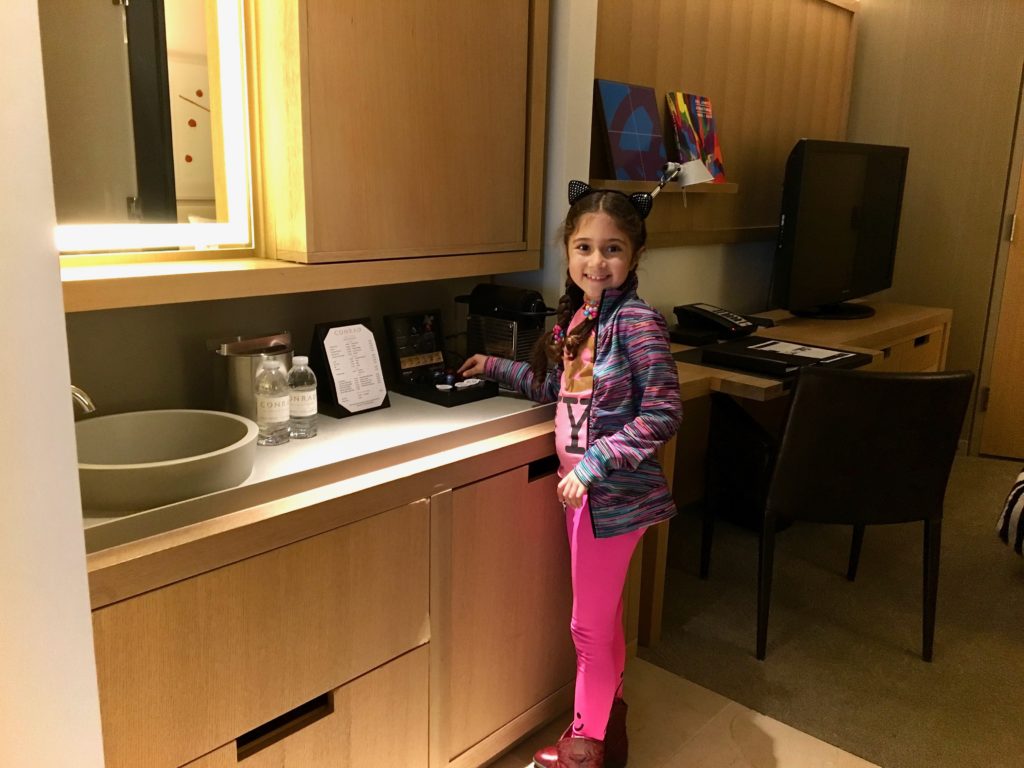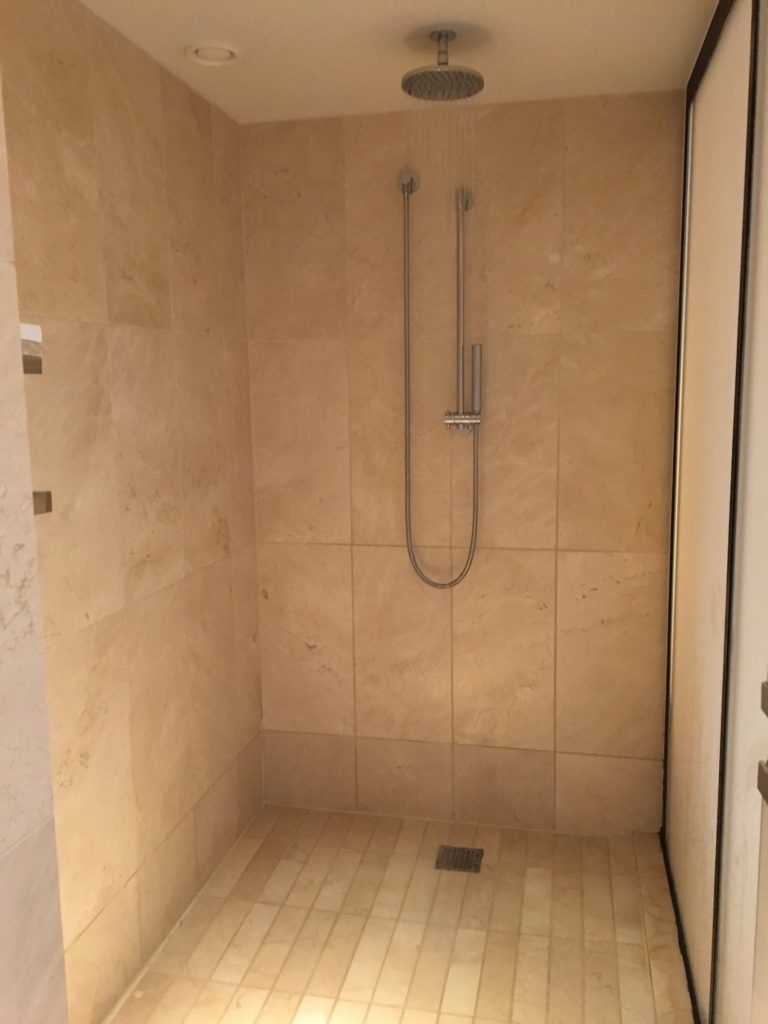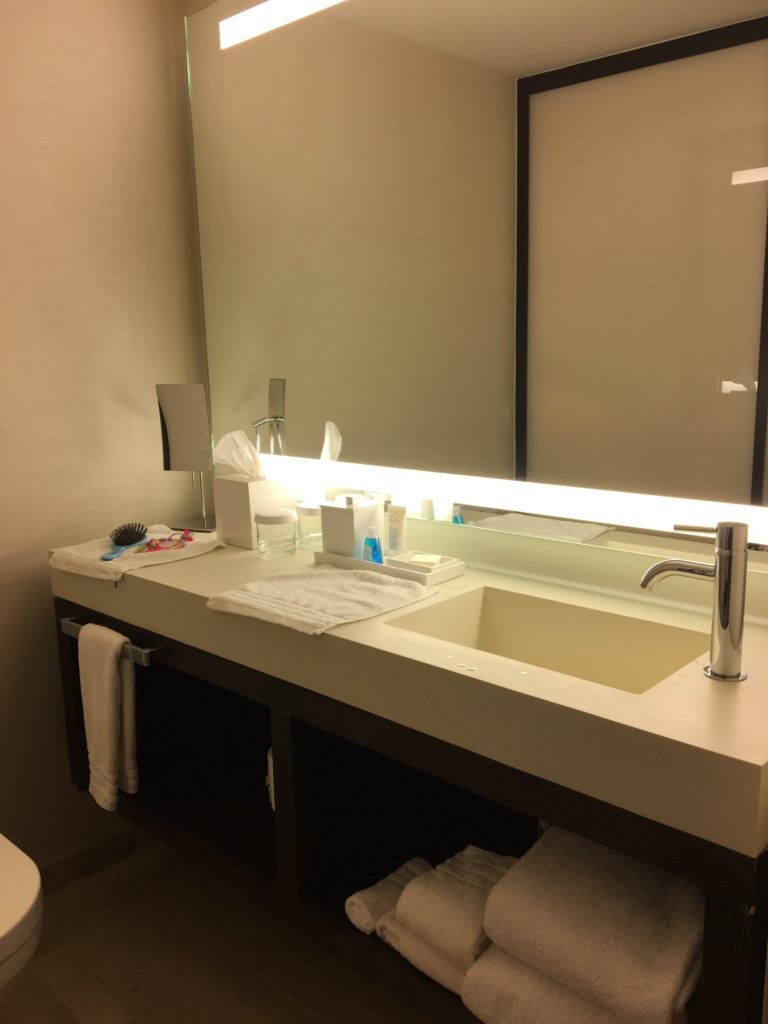 Our stylish suite at Conrad New York. Staycation family fun at Conrad New York.
My daughter immediately fell in love with Hudson, a stuffed bull mascot who was awaiting her arrival.
Our first stop was a visit to The Rink at Brookfield Place where we were greeted by Former U. S. Olympic ice skaters Melissa Gregory and Denis Petukhov who manage the rink.
My daughter and I enjoyed some time together on the ice and then she had a private lesson. The rink isn't too large making it easy to keep track of your kids and balancing props for young children are available. Talk about a rink with a view. Such a gorgeous backdrop, right? If you're lucky, you might catch an Ice Skate with Olympic Greats performance.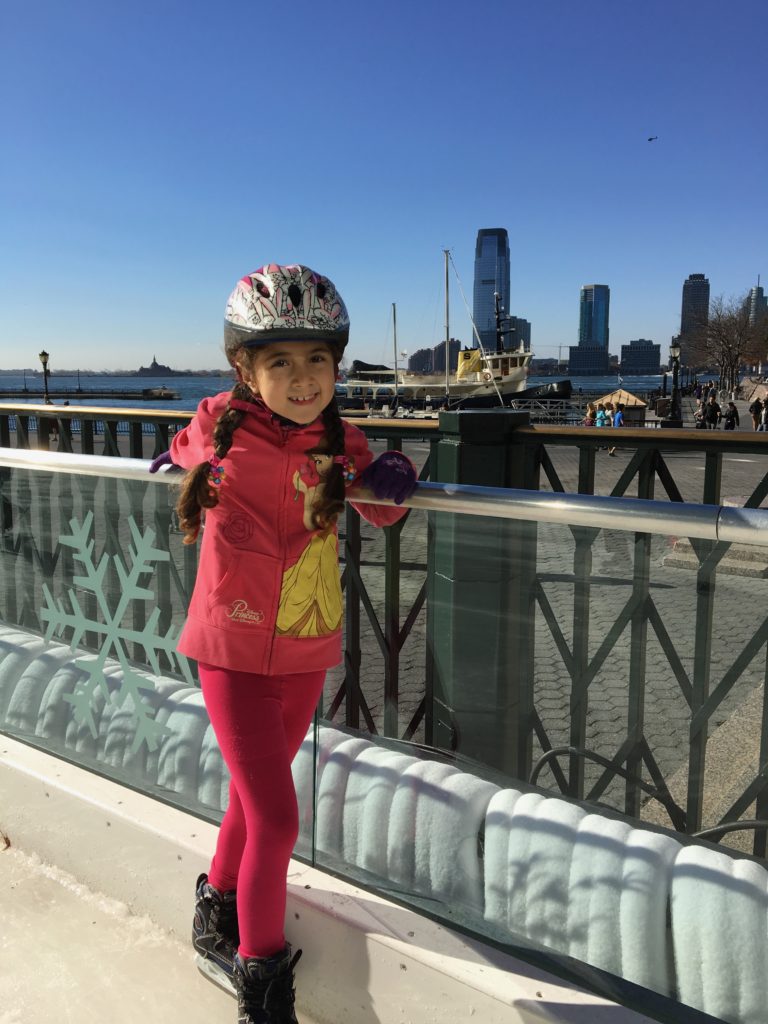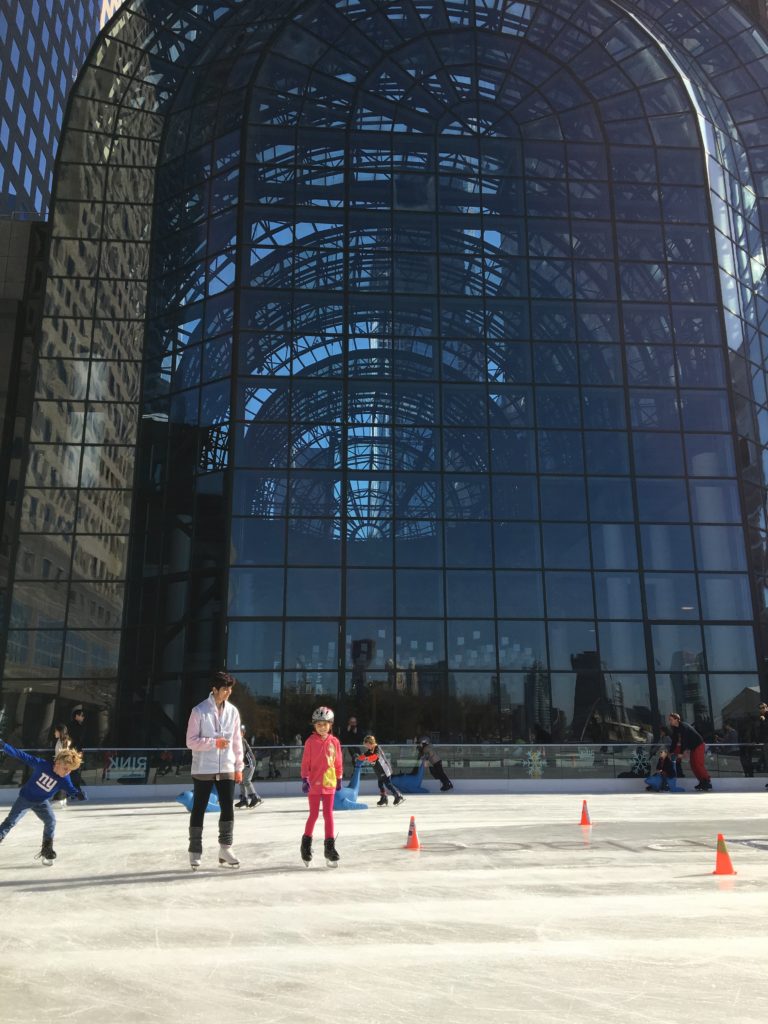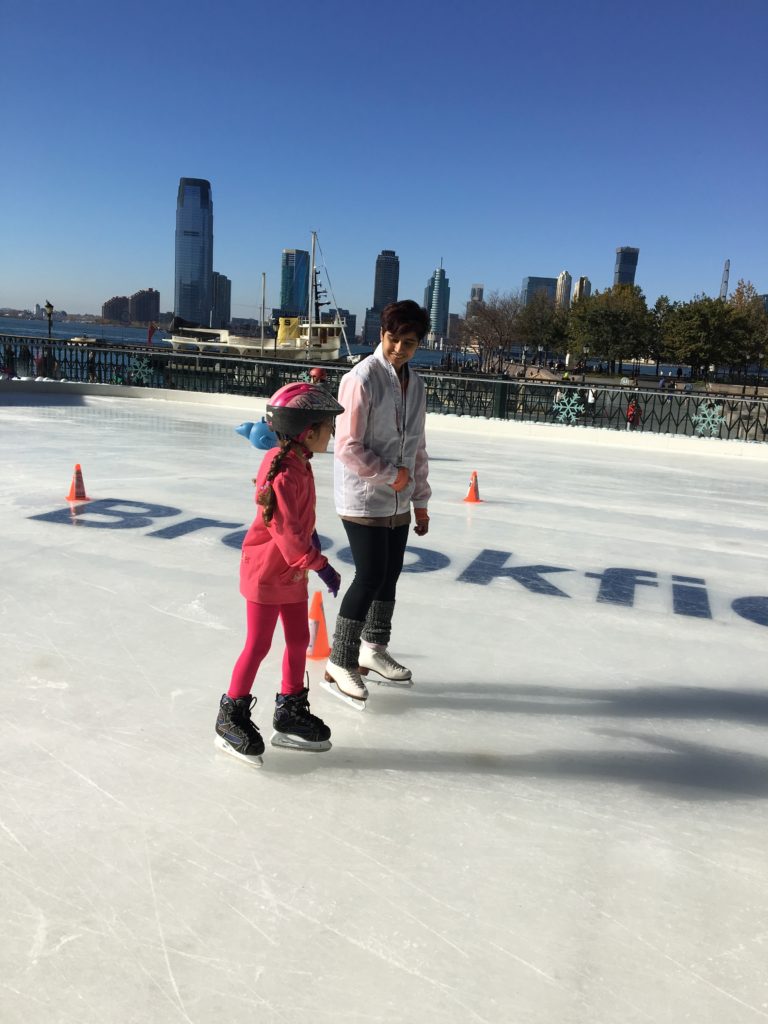 Conrad New York offers hotel packages that include ice skating lessons here – definitely a unique perk for an NYC hotel. The ice rink is housed outside Brookfield Place all winter but during the other seasons, you can often find cool art exhibits and other fun pop-up events.
We went back to our room and were quickly greeted with a fresh fruit plate and drinks. I have no idea how the hotel staff read our minds but we were hungry and thirsty so this hit the spot.
The weather was gorgeous so we decided to explore outside after a quick pit stop at the hotel's gift shop. I usually expect touristy things from a hotel shop but this one was nicely curated with specialty NYC themed books (for adults and kids), toys and other trendy items. The friendly guy working there started talking photography with my husband so my daughter and I could happily browse.
For lunch, we stopped at Hudson Eats, the family friendly food hall upstairs at Brookfield Place, which features a variety of upscale quick serve restaurants and a huge seating area with waterfront views. From sushi, bagels, pizza and sandwiches to salads, tacos, burgers and cupcakes, everyone in the family can find something to eat. I almost always order a Num Pang sandwich while my daughter and husband usually grab a burger, grilled cheese, pizza or sushi.
Downtown NYC has a lot of sights that most tourists never see. I highly suggest the walk from Brookfield Place to Battery Park which is along the Battery Park City Esplanade. There are no cars along the paved promenade making it very easy to roam with kids and you will spot interesting sights (Statue of Liberty!), lookout points, grassy spots and great playgrounds along the way…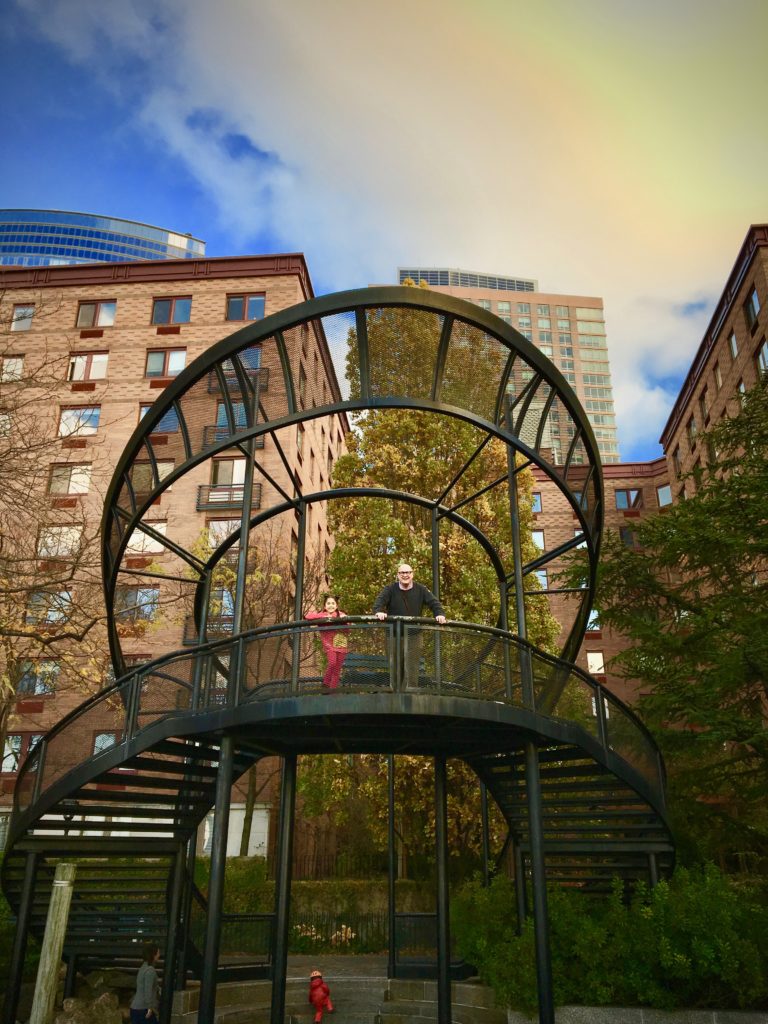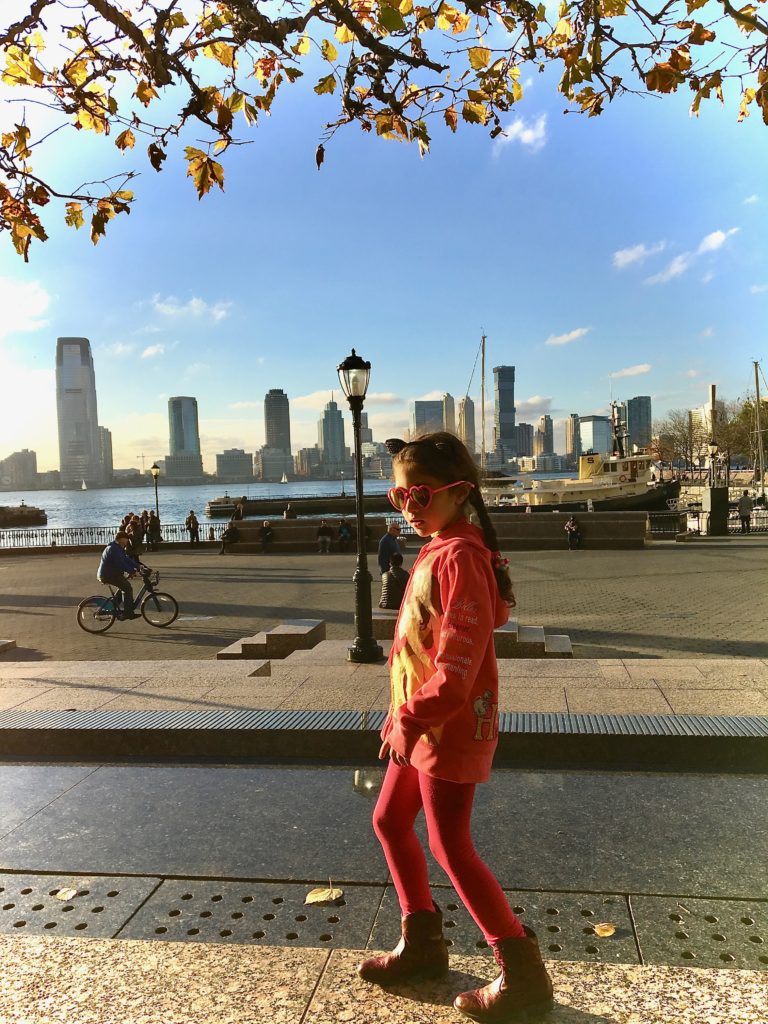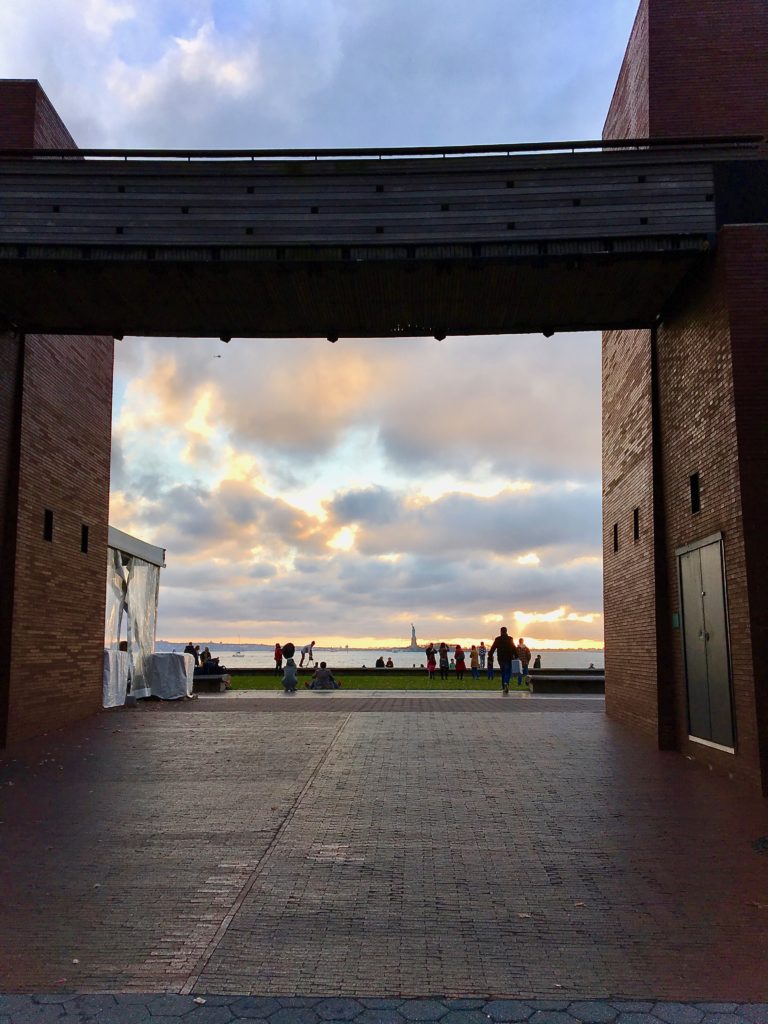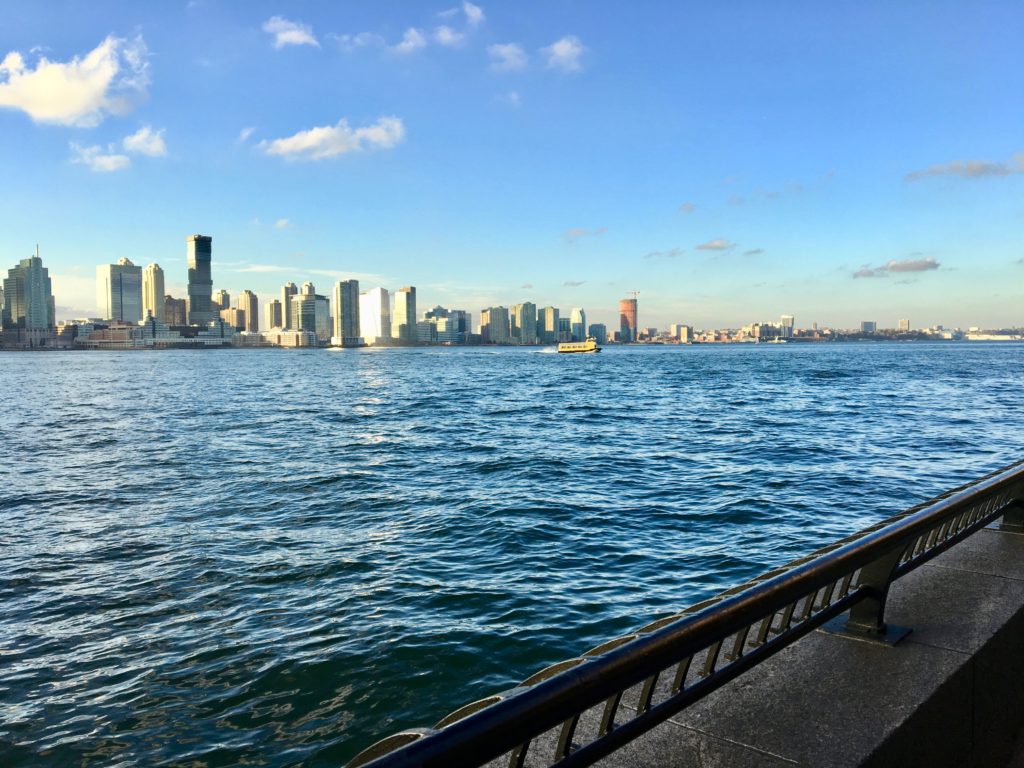 Battery Park is full of adventures for tourists and locals alike and if you have an afternoon or full day, I highly recommend you visit the Statue of Liberty, ride the gorgeous Seaglass Carousel or take a sail aboard the Staten Island Ferry.
We stopped by the Cool Globes art exhibit just at the top of Battery Park to check out the amazing oversized globes on display.
Then we headed back home to the hotel with a stop at the West Thames Park. Love these stunning Freedom Tower views.
After a quick change, we headed back over to Brookfield Place for dinner. There are always fun art exhibits going on in the gorgeous palm tree filled glass atrium and we got to see the famed Luminaries display which features hundred of changing lights that coordinate to holiday songs. If you are in the area over the winter holidays, be sure to check it out.
We had a delicious dinner at Beaubourg in Le District and we were so happy we could just walk home after our long day. If you love French cuisine, Le District is a gourmand's haven filled with restaurants and shops selling everything from meats and veggies to pastries and French candy.
I really love having a suite when we travel since my daughter usually goes to bed around 8 pm and I like to stay up later. It was so nice that our Conrad New York suite allowed my daughter to fall asleep while my husband could stay up late without having to be quiet or keep the room dark.
After a great night's sleep, my daughter and I enjoyed lounging around reading while my husband checked out the in-room Nespresso coffee machine. We had a nice relaxing morning and headed to our 10 am brunch reservation at Atrio in the hotel's lobby. Of course, our new pal Hudson joined us.
We chose the breakfast buffet which was loaded with pastries, bagels, and yogurt parfaits along with eggs, bacon, potatoes and other breakfast items. The restaurant features river views behind sparkly "curtains" that mesmerized my daughter and Hudson. In addition to weekend brunch, Atrio also serves breakfast, lunch and dinner and features an Instagram-worthy wall of wine.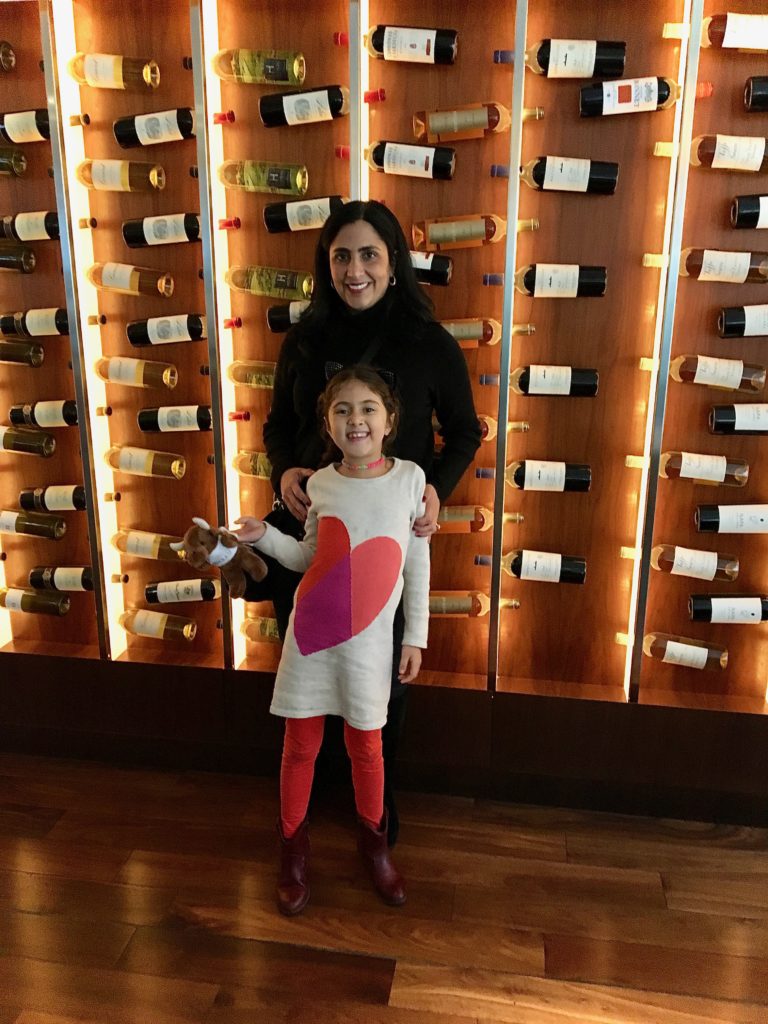 We spent the rest of our day checking out the nearby attractions like the Regal Battery Park movie theater (which you can enter from the hotel!), department stores (hi Saks), restaurants (including Danny Meyer signature spots) and the shiny new Oculus which houses some amazing retailers, eateries and the newest Eataly (think everything yummy from Italy under one roof).
After thoroughly exhausting ourselves in a good way, we headed back to Conrad New York to grab our bags and say goodbye.
If you want a pampering family friendly hotel stay with a great location to explore downtown, NYC, I highly recommend Conrad New York.
Have you ever stayed downtown? Tell me your favorite attractions in the comments below.

A very special thanks to Conrad New York for providing accommodations, breakfast and skating lessons. As always, all opinions are my own. If you don't want to miss a post, subscribe to Globetrotting Mommy for daily updates!