When traveling with children, bringing along a scooter is a great idea for kids who are too big for strollers but too young to walk for miles without complaining. I've written about scooters before but today I'm talking about helmets and protective gear.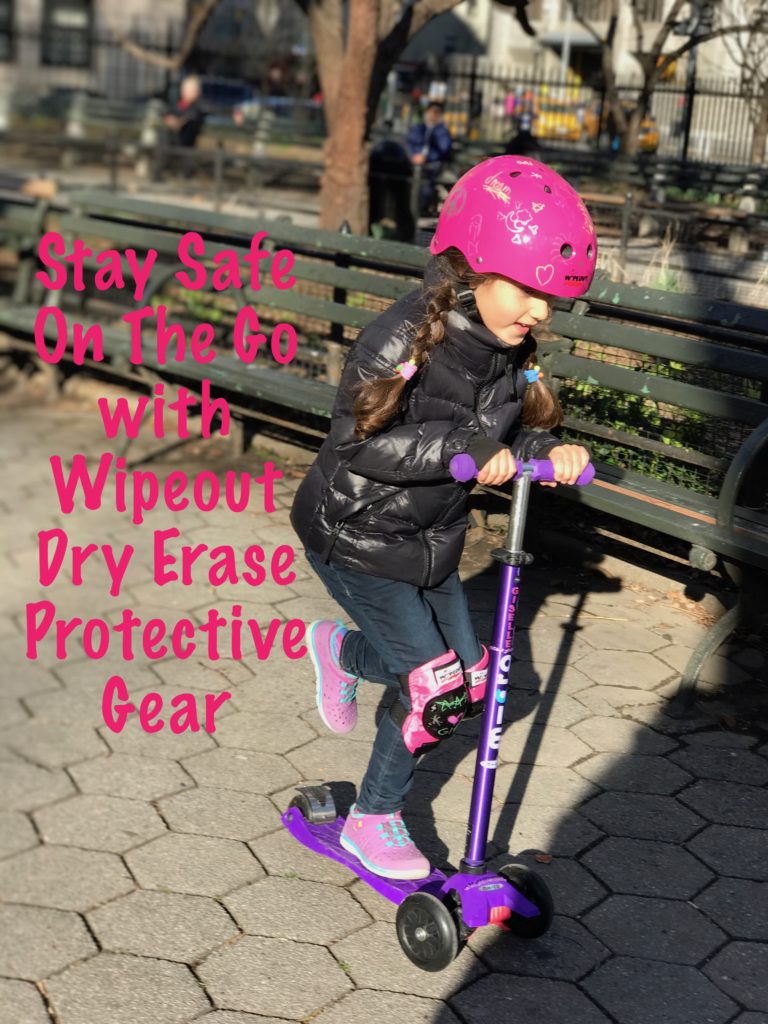 NYC kids start riding scooters as toddlers and quickly get accustomed to wearing helmets without complaining. At the ripe age of seven, my daughter has gone through a handful of helmets which she has outgrown literally and figuratively. You see, if another kid in my daughter's school wears something my daughter owns, she no longer wants to wear it. While I appreciate her need for originality, this has become an issue. When I heard about Wipeout Dry Erase Protective Gear – customizable helmets and pads – I knew it would be a great fit for her (no pun intended).
The helmets come in an assortment of solid colors and dry erase markers and stencils are included so kids can start being creative right out of the box! My daughter had a friend over when the items arrived and they couldn't wait to start decorating the helmet and pads…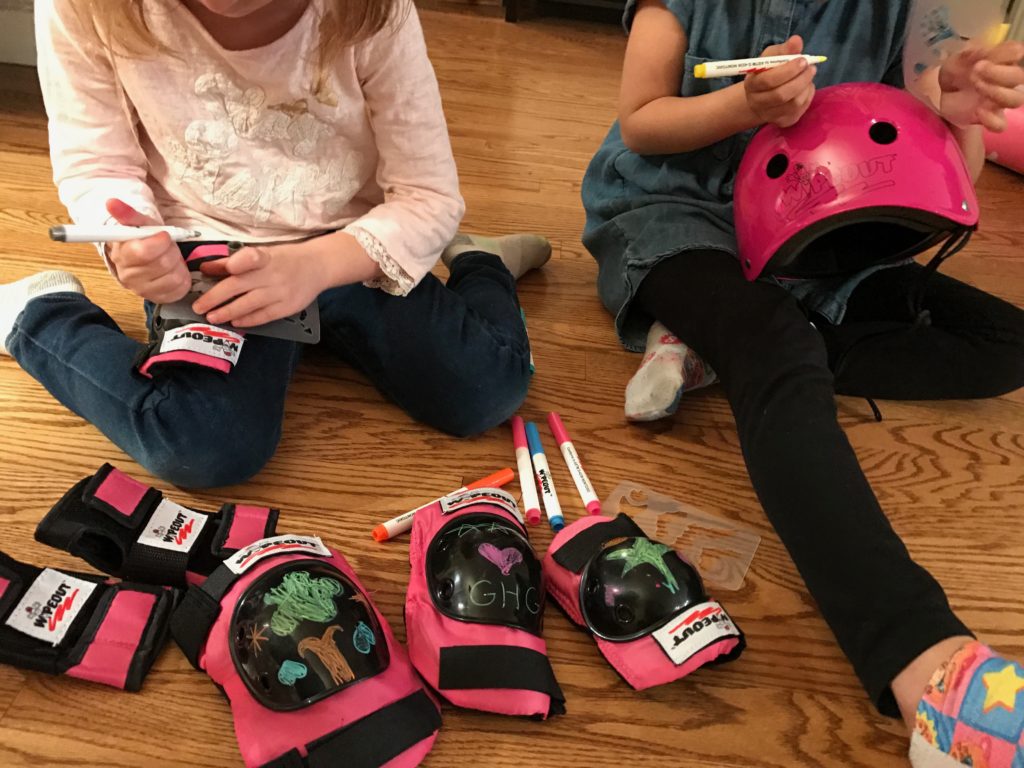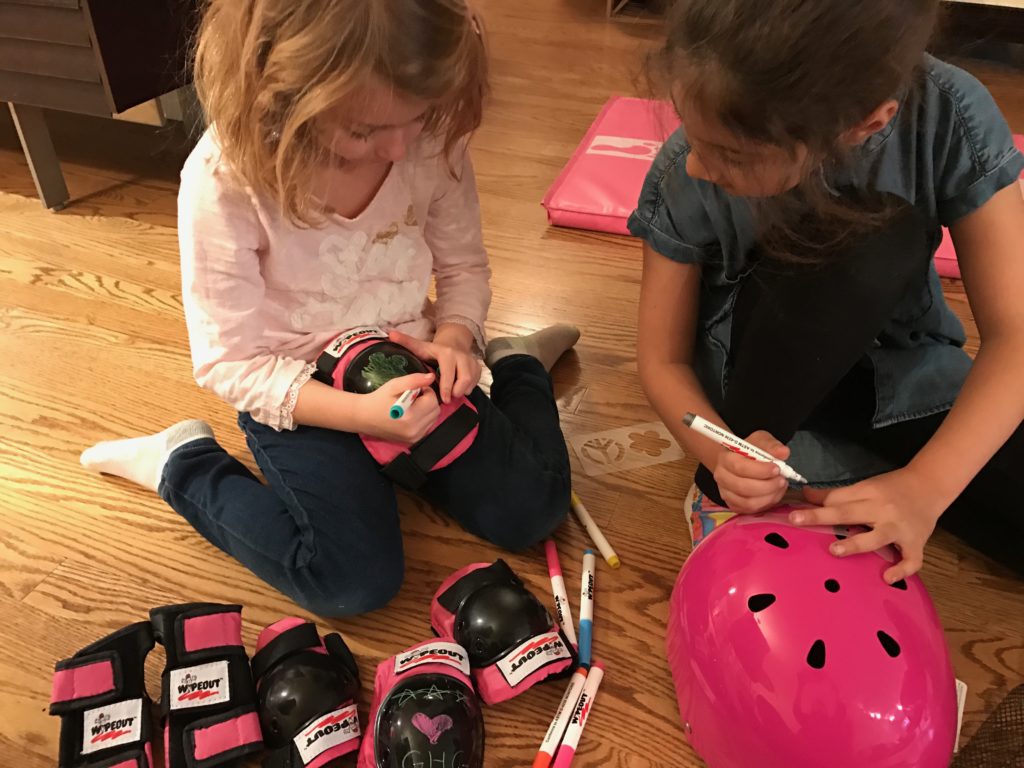 The dry erase markers and stencils were easy to use and best of all, any mistakes could quickly be wiped off. If you've got a kid whose interests change frequently, this is a great item as they can doodle hearts and butterflies one day and draw skulls the next. The Wipeout Website features some easy-to-follow design tutorials or kids can run wild with their own ideas.
The helmets are made of ABS hard-shell construction with EPS liners for durability and they are certified for safety protection for biking, skateboarding, roller-skating and scooter riding. There are three sizes available which fit kids ages 3-14. A snow version is also available with ear flaps and a goggle clip for sledding and snow sports.
The Wipeout Dry Erase Protective 3-Pack includes kneepads, wrist guards, elbow pads and two dry erase markers. Pads come in black, teal, neon pink or zest.
We took to the park for a test drive and my daughter commented on how comfortable everything felt and loved that she could take the knee pads on and off by herself. I loved that too!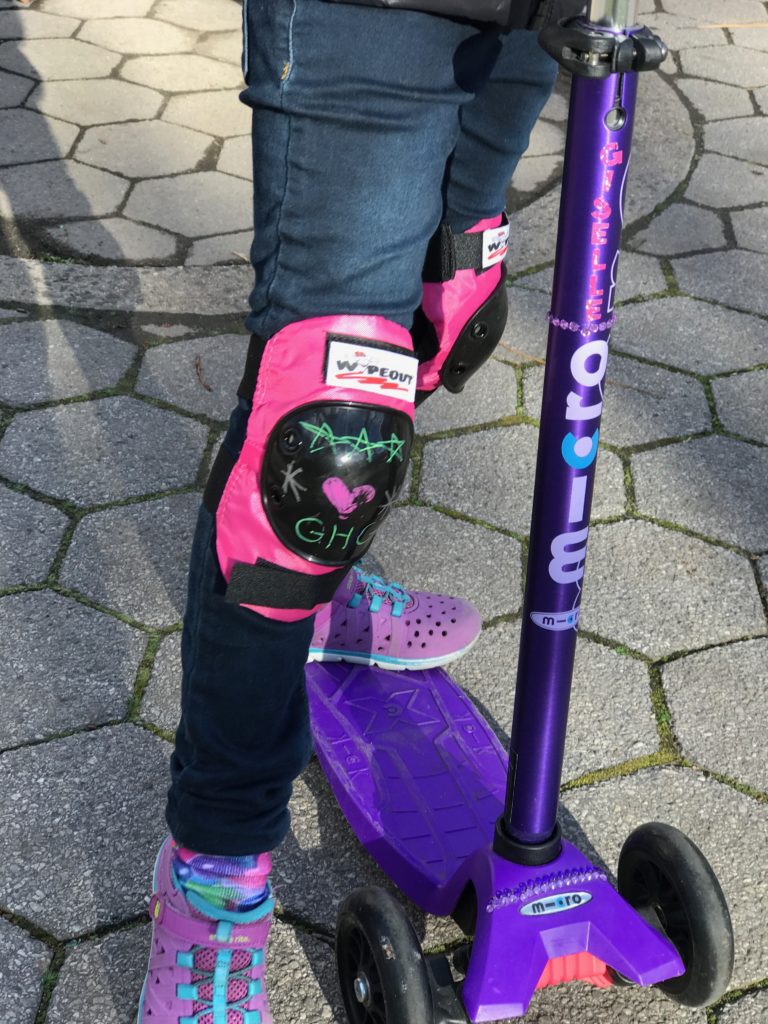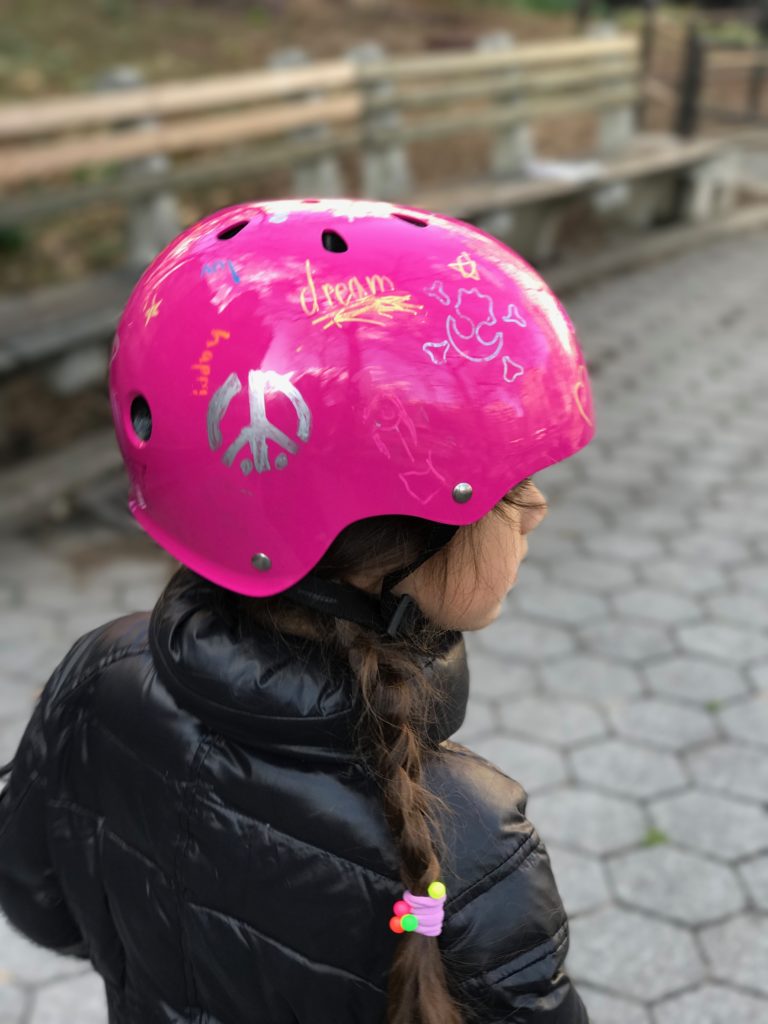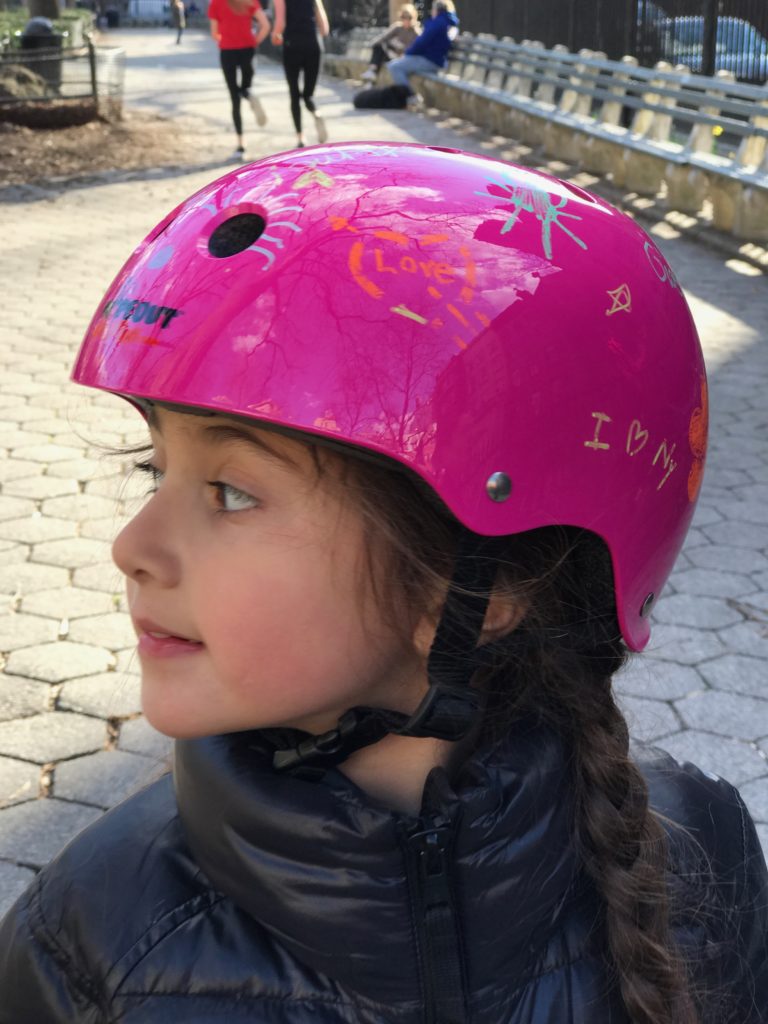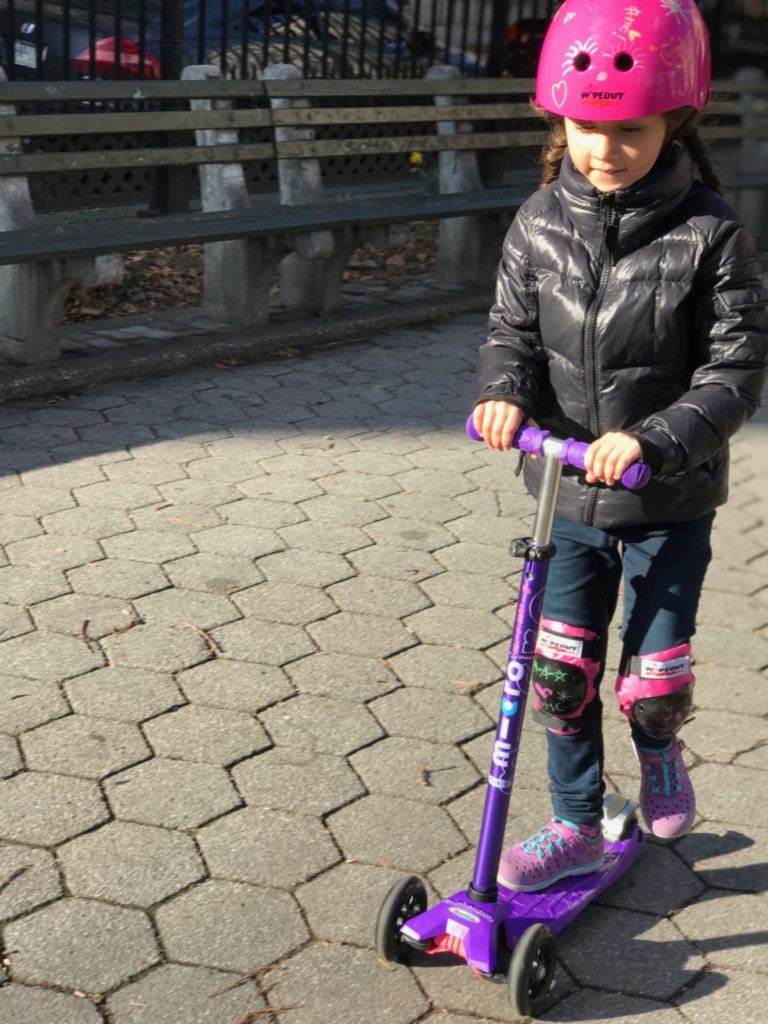 If you're in the market for new safety gear, I highly recommend these. They would also be a great birthday or holiday gift for any kid on your list.
For more information, watch this video or check out the Wipeout links below:
Follow Wipeout online via these Social Links:
Wipeout Website: http://iwipeout.com/
Facebook Page: https://www.facebook.com/iwipeout
Instagram Page: https://www.instagram.com/iwipeout/
Twitter Account: https://twitter.com/IwipeOut
YouTube: https://www.youtube.com/channel/UC_fPeHJ5EocBnE3N_QyXXMg/videos
What designs would your kids draw on a helmet? Tell me below in the comments.

This post is part of a sponsored campaign for Wipeout Dry Erase Productive Gear. I received compensation for my participation, but my review and opinions are my own. This post contains affiliate links. If you don't want to miss a post, subscribe to Globetrotting Mommy for daily updates!